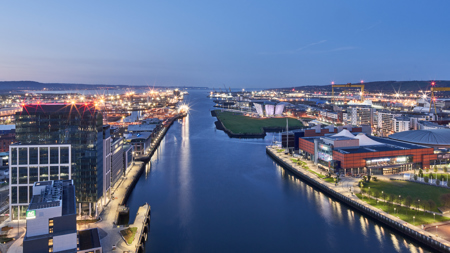 ---
Visit Belfast
---
Belfast is a destination that exceeds expectations and rewards curiosity. We are an award-winning, ambitious, capital city on the rise but one that looks after our event organisers and delegates like family. Genuinely.
100% of our conference clients are 'very likely' or 'likely' to recommend us.
And that is after a global pandemic. We used that challenging period to up our game on tech & hybrid, accelerate our work on sustainability, becoming a Top 20 sustainable destination in the world (GDS Index) and we also set up five sector advisory panels with the Top 50 companies in Northern Ireland to better support conferences when they meet in Belfast.
We launched a new £1m support scheme with awards from £5k-£100k to help our conference organisers to return to 'live' and secured £20.1m new conference business in 21-22, an increase of 34% on the previous year. We are a not-for-profit organisation and with a very modest budget we delivered a 54:1 ROI on activity spend in 21-22.
Our venues are cool but our service is legendary.
Budgets go further in Belfast – but the real difference is that our service goes further too. It is a city where genuinely everyone knows everyone, where our industry all work together as Team Belfast to make it easy to plan and deliver brilliant events.
That's great when things do go to plan - but it is particularly handy when things can (as we now know all too well, post-COVID), go wrong. We are great fixers, we have a 'can-do' attitude and will move mountains to make sure that we don't let our clients down. You see, it matters too much to us because tourism and events have been a catalyst for the regeneration of our city. We wanted to play our part in rebuilding it post COVID.