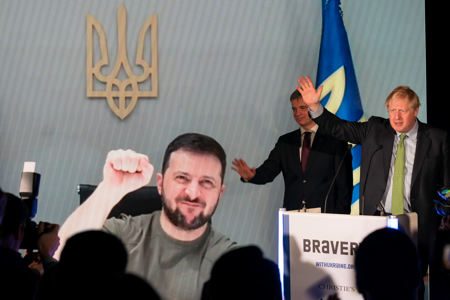 ---
Bravery in Ukraine
Brandfuel
---
Client: The Ukraine Embassy to the UK

More than seven million people have been forced to leave Ukraine since the war began on February 24, with another eight million people displaced or fighting for their homeland.
When the Ukraine Embassy to the UK asked Brandfuel to help organise the Bravery in Ukraine fundraiser in early April, there was no way we could refuse. It was such an important and inspiring event that, even with a tight four-week lead-in time and ever-changing brief, we felt honoured to be involved.
Our objectives were simple: to raise money and awareness of Ukraine's plight. What started as a "small fundraising reception" rapidly became a two-floor takeover of Tate Modern with drinks and canapés for 400 guests, seven immersive art installations, a live auction, two VIP speeches (one in person, the other virtual), and performances by world-renowned musicians.
The Brave in Ukraine campaign (https://brave.ua/) put together by the Banda agency covers the incredible stories of the country's people, highlighting their dignity, hope, resilience and strength and reminding us all to be brave like Ukraine. The campaign's artwork fuelled the designs created by Brandfuel for the Bravery in Ukraine event and inspired the narrative journey we created for the embassy's guests.
There were so many emotional touchpoints on the night - from listening to President Zelensky speak amid the evident disruption of a warzone, to the poignancy of the seven installations, and the drama of the auction hosted by the only Ukrainian auctioneer in London.
The run-up to this key fundraiser had been challenging, frustrating and unpredictable, but the impact on the client and guests on the night was clear for everyone to see. For Brandfuel, it was humbling and gratifying to know that our work could at least help to make some difference in such a grave and continuing humanitarian crisis.