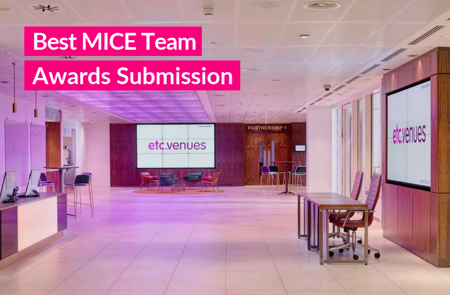 ---
etc.venues
---
etc.venues is the UK's leading provider of non-residential meeting and event venues with 17 locations across the UK and US. However, what really sets us apart isn't our venues; it's our people. Our sales office remained open throughout the challenges of last year with our 'Dream Team' of 15 working from home. By listening to clients and adapting to the ever-changing landscape, they developed new business opportunities and stronger client relationships during a truly demanding year. That's why we believe they should be recognised as the Best MICE Team, 2021.
Highlights include:
Winning contracts
In August 2020, working in partnership with Her Majesty's Courts and Tribunal Service (HMCTS), the Dream Team secured the first Nightingale Court at our Prospero House venue in London. Then, in February 2021, the team secured a second major HMCTS contract at our Maple House venue, quickly followed with the conversion of our Marble Arch venue into a vaccination centre. These contracts meant three venues remained open.
Strengthening Client Relationships
Review meetings became an opportunity for The Dream Team to stay in touch with key customers. These catch-ups moved from being purely professional to more informal as fellowship grew and client relationships strengthened, helping to retain accounts. In fact, throughout 2020, 90% of our top 50 clients told their account managers how grateful they were that we were a constant for them. Perhaps that's why we had business on the books from 800+ clients before restrictions were even removed.
Pioneering hybrid solutions
By listening to clients, The Dream Team recognised a need to develop a hybrid meeting solution. This was achieved by establishing a partnership with a leading online platform provider, Glisser, and launching this with two hybrid masterclass sessions delivered to over 2,500 online attendees. Since, the launch over 100 hybrid events have confirmed.