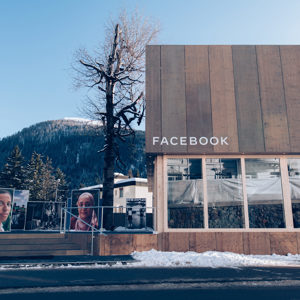 ---
Facebook x World Economic Forum, Davos
Smyle Creative
---
Client: Facebook

In 2019, Facebook signed up to the UN Sustainable Development Goals. The 2020 World Economic Forum theme of "Stakeholders for a Sustainable World" offered a global platform to illustrate this bold commitment to responsible, sustainable consumption and production.
Facebook asked Smyle to create a World Economic Forum 2020 experience that was humble in tone and rich in content, with a pioneering approach that delivered ambitious sustainability goals.
Smyle's response was a comprehensive event strategy that placed sustainability at its core. The resulting custom built two-storey Facebook Pavilion clearly illustrated that sustainable design doesn't mean compromise; it can be as beautiful as it is responsible.
The design was driven by a sensitive architectural approach which:
Reduced build time and transport
Used specially-sourced materials, reducing environmental impact and waste
Facilitated delivery by a sustainable supply chain
Deployed space planning and technical designs to activate in the most sustainable way possible
Key objectives included the elimination of plastic waste, measuring and understanding the sustainability impact of the Davos activation, and developing a detailed plan for future action.
+2,500 WEF delegates were welcomed into the Pavilion over 5 days to explore stories of social good across a variety of Facebook brands. A detailed post-event report captured sustainability data across all elements of planning, design and delivery.
The sustainability results were outstanding, with targets for zero plastic waste and food waste smashed, alongside achieving 100% renewable energy usage and using 90% sustainable construction materials.
Smyle and Facebook's approach resulted in a commendation from the WEF for innovation in sustainability. This landmark project also created a benchmark from which future Facebook activations can be developed, shaping the future Facebook event strategy, aligned to their overall corporate sustainability mission.