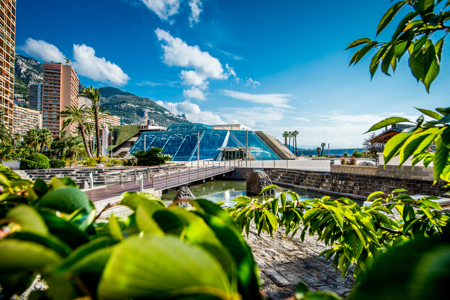 ---
Grimaldi Forum Monaco
---
Ideally located in the sunny, easy accessible and cosmopolitan Principality of Monaco, on the French Riviera, here at the Grimaldi Forum Monaco (GFM) we offer a versatile surface area of 35,000m² to make all conferences, congresses, tradeshows, exhibitions, concerts and shows unique and memorable.

Our features : 2 exhibition halls (3,500m² and 4,200m²), 3 auditoria (1,800, 800 and 400 pax), 22 breakout rooms and 3 catering spaces.
Praised for the quality of our spaces and the expertise of our teams, we are also one of the first centres to receive the ISO 14001 certification in 2008. This certification has developed a "green" management system that focuses on continuously improving our operations for a cleaner event industry. Since then, this has become our "green fuel" and our daily commitment.

The whole GFM team represents 140 talented employees, 140 creative minds, 140 passionate souls, with only one aim: to make your event exceptional!

We keep re-inventing ourself in order to offer a creative approach and continuously surpass our clients' expectations for an optimised customer experience.

Our constant evolution is at the heart of our DNA. 2025 will be a ground-breaking year with the arrival of an ambitious extension project. The best is yet to come for our venue!